Job Openings
Job Opportunities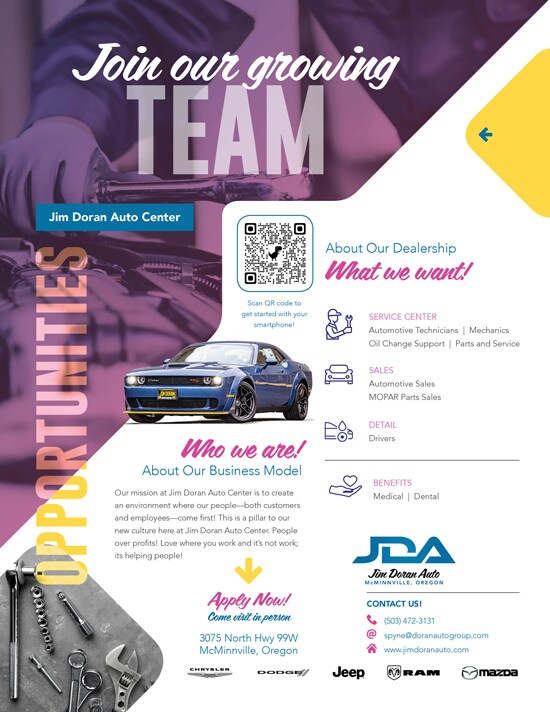 Apply for Position
Automotive Service Writer
Jim Doran Auto Center in McMinnville, Oregon is seeking a hard working AUTOMOTIVE SERVICE WRITER to join our growing team.
Do you enjoy working in a fast paced and friendly environment? Do you enjoy working on a team and serving others?  Do you thrive in these kinds of situations? Do you insist on having fun at work and enjoying the time you spend away from home? If so, we need your help.
WHO WE ARE:
Jim Doran Auto Center is a dealership specializing in new Dodge, Ram, Jeep, Chrysler, Mazda and a variety of used vehicles. We are located in beautiful wine country in McMinnville, Oregon centrally situated roughly 45 minutes south of Portland, 30 minutes north of Salem and 60 minutes east of the coast. Our ever-evolving team consistently strives for excellent customer service, the willingness to help others and truly looks out for one another. At Jim Doran Auto we truly believe we are changing the culture that is a car dealership. From management to detailers we are happy to provide the best customer service we can.
WHAT WE NEED:
Full-time Automotive Service Writer
JOB RESPONSIBILITIES:
Passion for customer service and working for and with others is a necessity.  Being detail oriented is very helpful as the work requires the ability to multi-task.  Enjoying communicating with people in person, via phone, and over email is also vitally important.  Equally important as communicating is the ability to listen and discern from client concerns, complaints, and feedback the root causes of their frustration and what the best course of action might be to solve their problem.  Relaying this information from client to service technician is crucial to the success of our team and the effectiveness of our work. 
Once a vehicle has been diagnosed, we rely on our service writers to communicate the repair needs to our clients and arrange for repair work in a timely and effective manner for our clients while coordinating with our parts and service departments as well.  Once we have completed servicing the client's vehicle, we will connect with them to arrange pick-up of their vehicle. We will then describe the nature of the work performed on the vehicle to better help our clients understand the work completed. Must be a licensed and insurable drive as test driving client's vehicles will be required from time to time.  Passing a background check is also required for employment as our writers will have access to client information. Having an affinity for cars, trucks, and SUV's is a plus.  Passion for accessories and knowledge of automobiles is even better.
JOB REQUIREMENTS:
The ideal candidate must have a strong desire to succeed; self-driven and motivated. We are looking for someone who is passionate and enthusiastic! Customer service must be your number one priority followed closely by the willingness to learn and grow. You need to know accessories, cars and be mechanically inclined. Organizational skills are a must.
QUALIFICATIONS:
Prior automotive experience is a plus, but must be willing to learn our way, our culture and share our vision. We desire someone who has an outgoing personality, shows a good work history and is committed. You should have basic computer, email and internet skills. We expect you to be a professional including your appearance, verbal and written communication. You need to be able to communicate. You need to have a valid driver license and be flexible with your working hours. High school education or equivalent preferred.
WHAT WE OFFER:
Full-time position. Hourly pay at a competitive rate dependent on experience, and healthcare benefits.
HOW TO APPLY:
Bring resume and cover letter in person to: Jim Doran Auto Center 3075 N. HWY 99W, McMinnville Oregon 97128, Attn: Service Manager. Email resume and cover letter to: NAmerson@DoranAutoGroup with subject: Service Writer
Apply for Position
Hours
Monday

09:00AM - 07:00PM

Tuesday

09:00AM - 07:00PM

Wednesday

09:00AM - 07:00PM

Thursday

09:00AM - 07:00PM

Friday

09:00AM - 07:00PM

Saturday

09:00AM - 06:00PM

Sunday

11:00AM - 05:00PM